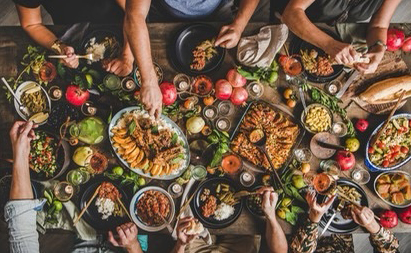 It's a sad fact that many theatre professionals in the DFW area find it difficult to make their living entirely from the arts. This means that many of those theatre professionals hold down a day job to make ends meet. And sometimes in the mad dash from work to rehearsal or performance, dinner becomes optional.
Enter the Pegasus Theatre Craft Services Table! In the entertainment industry, craft services stocks a table to provide sustenance for the cast and crew in between meals. Our table is stocked by the inestimable John Harvey, he-with-many-titles, including Stage Manager, Managing Director, and Craft Services, among others! John does a remarkable job of stocking the table with a variety of single serve items, including healthy choices available for those so inclined. And we always have peanut butter and bread, so at a minimum an actor or crew member can have a PB sandwich for dinner!
But this is not the only time we feed our actors! There's the Opening Night after party at The Renaissance Hotel next to the Eisemann, where we ring in the New Year with the cast, crew, and design team. And on two-show Saturdays we feed cast and crew in between shows. The Eisemann Center graciously provides us a space where we can put out a catered buffet. Favorite food providers include Afrah and Chipotle. But the number one favorite is when we host a potluck! Cast and crew sign up to bring food and show off their culinary skills. The spread is amazing!
We do these things because we believe that a well-fed actor is a happy actor. And happy actors tend to give better performances! So when you come to see Prime Time for Murder!, be grateful for the magic of food!
Buy tickets to Prime Time for Murder! at https://www.eisemanncenter.com/events/v/list/m/12/y/2021!