Your donations are critical!
They allow us to continue to bring you both the annual Living Black & White™ gala production of new comedy-murder-mysteries, featuring the inept but endearing detective Harry Hunsacker, and they allow us to bring you other new and original comedies in a professional setting, highlighting the talents of North Texas theatre artists.
In a well-run theatre, the ticket price typically generates about a third of the theatre's budget. Non-profit theaters are expected to show community support by getting another third from individual donors like you. The final third comes from corporations and foundations. All donations to Pegasus Theatre are deductible to the full extent allowed by law. Pegasus Theatre is recognized by the Internal Revenue Service (IRS) as a charitable institution under section 501(c)(3) of the tax code.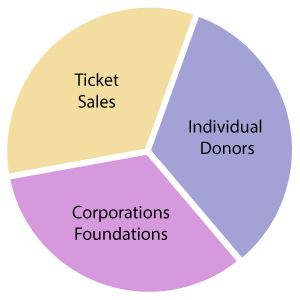 Harry's Angels
(Donations of $5,000 or more)​
Anonymous
Penny & Roy McClurg
Michael Piper & Tamara Lovell
City of Richardson
Diane M. Solis
Texas Instruments Foundation
Barbara Weinberger
Nigel's Irregulars
(Donations of $1,000 or more)
Anonymous
Dwain & Sherry Howard
Richard Kleinmann
Bruce Turner
Dale Wheeler
Foster's Squad
(Donations of $500 or more)
Anonymous
Mike & Jacki Lindberg
Dr. Joseph D. Luttmer & Linda L. Grigsby
The Mingee Family
Sandy & John Fambrough
Producers
(Donations of $250 or more)
Anonymous
Ronald Bell
Joe Cicio
Hank & Marinez
Victor Kralisz
Chris Messersmith
Alan & Julie Tompkins
Sponsorship-levels
Friend • up to $99 per season
Directors • $100+ per season
Producers • $250+ per season
Foster's Squad • $500+ per season
Nigel's Irregulars • $1000+ per season
Harry's Angels • $5000+ per season
Directors
(Donations of $100 or more)
Jan & Stephen Alford
Anonymous
Lori Austin & William Lovin
Mark Bailey
Thomas & Marjorie Carrington
Janet Coppinger
Greg Davis
Fay Davis
Sarah Hansen
Cynthia Jensen
Patty Lewis
Michael W. McDonald
Keith & Karen McElwain
Jason Nield
Alexandra O'Reilly
Cindy Parks
Katherine Quinn
R Lynn Rea
David Ricker
Christian Schmoker & Alex Moore
Shirley Smith
Sam & Julie Velez
Kathryn Wood
Greg Yearsley
Friends
(Donations of up to $99 per season)
Stephen Anderson
Anonymous
Stan Aten
Sharon Bowles
Kateri Cale & Bob McVay
Thomas Carmody
Allyn Carrell
Barry Carroll
Wesley & Shirley Caskey
Susan Chizeck &  Bill Pervin
Jared Culpepper
Greg Davis
Michael Davis
Robinson Davis
Stephanie Felton & Scott Nixon
Rebecca Fischer
Elaine & Steve Hazen
Brian Hoffman
Jacie Hood
Helen Hull
Terri Jakubowski
Cynthia Jensen
Lauren Jensen
Marianne Kolar
Marina Krekler
Ray Kunze
Nancy Lamb
La Keisha Leonard
Robert Mendoza
Tom & Karen Monson
Sue Murray
Kenneth & Andrea Pfannsteil
Jan Pridham
Valarie Quick
Ken & Lauren Ray
Vivian Reed
Barbara Rhodes
Karen B. Robinson
Robert Rodgers
Diana Rosales
Sheila Rose
Kathryn F. Taylor
Christy Williams
Support Pegasus Theatre!
To make a donation, clink on the DONATE button and you'll go directly to our PayPal.Me site.
Donate by Shopping!
If you use Amazon, this is as easy as it can be, and it's really helpful!
Log in to your Amazon account
Type in "Pegasus Theatre," and select us as your charity!
Just like that, 0.5% of each purchase goes to support Living Black & White™ and all other Pegasus Theatre productions!