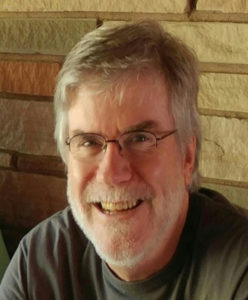 It's the 3rd night of Fresh Reads 2! Come see "Asylum in Georgia" by John C. Davenport tonight! And read all about Mr. Davenport below, as we wrap up our focus on the talented playwrights whose work is featured in Fresh Reads 2!
Tickets: https://www.eventbrite.com/e/fresh-reads-2-an-annual-festiv…
John C. Davenport's biography:
John C. Davenport is very happy to be working with Pegasus Theatre again. Pegasus produced his first two full-length plays, "Red Rover" and "Wax Lips." John is a career journalist and former stand-up comic who veered into playwriting, which he usually does while seated. He has had productions in 22 states, Canada, and Panama. His full-length plays have been produced in Chicago, Dallas, Seattle, and Bremerton, Wash. His work has been included in one-act festivals at (among other places) the Estrogenius Festival in New York; Acme Theater in Maynard, Massachusetts; Santa Paula (California) Theater Center; the Snowdance Festival in Racine, Wisconsin; Changing Scene Theatre Northwest in Tacoma, Washington; and Theatre Three in Port Jefferson, New York. He is a member of the Dramatists Guild of America and Seattle Playwrights Circle and co-founder of Red Rover Theatre Company.
John C. Davenport's answers to our provocative questions:
1. How long have you worked with Pegasus Theatre?
Answer: Pegasus produced my first two plays, "Red Rover" in 1996 (after hosting a staged reading of the play two years earlier) and "Wax Lips" in 1998. I was living in Dallas at the time, and I was incredibly lucky (A) to have my first two plays produced and (B) have them produced in the city where I lived, so I could be involved in the productions. My son was 10 when "Wax Lips" was produced, and he remembers serving as "assistant assistant" stage manager during one rehearsal, feeding actors their lines.
2. What appeals to you about this project?
Answer: This project gives an opportunity for me and others to hear the play and help in its development. Doing it in Dallas, where I still have friends and relations, is a bonus.
3. How long have you been involved in theatre in general?
Answer: I didn't get seriously involved in playwriting until after I moved to Seattle in 2002. I tried to get into stand-up, which I had been doing as sort of a hobby in Dallas, but my work schedule in Seattle made that difficult. So, with two produced plays under my belt, I got back into playwriting. Which is safer than stand-up, believe me.
4. What do you do when not working on this project?
Answer: I'm a journalist by trade, specifically an editor. About a year and a half ago, a fellow playwright and I formed Red Rover Theatre Company in Seattle to produce our own plays. Our first production was "Red Rover." We have since done productions of two of my producing partner's plays.
5. Give an odd fact about yourself, something people wouldn't guess from having first met you?
Answer: It's hard to top having done stand-up as an odd fact.
6. Describe your first theatre memory.
Answer: I was in a seventh-grade production of "The Man in the Bowler Hat" by A.A. Milne at my school (it was in our English textbooks). The real challenge was having to hold hands with an actual girl during the play. Eeeeesh…. (Editorial note: we understand. The great Cooties scare of childhood.)
7. What inspired you to get involved in theatre?
Answer: Playwriting seems to suit me better than other types of writing. It's a creative outlet with its own special challenges. And unlike novels, you can see your work performed (sometimes) and hear the reaction. And like I said, it's safer than stand-up. (Editorial note: We are intrigued by the nature of the danger in stand-up! Flying objects???)
8. Theatrical pet peeves?
Answer: Theaters that reject my plays.
9. Favorite play/musical/movie musical (that you didn't write)?
Answer: Favorite play: "Our Town." Favorite movie musical: "Oklahoma!" Favorite stage musical: Don't really have one. Not a big fan of stage musicals.
10. What is your hometown and where else have you lived?
Answer: I was born in Dallas (Oak Cliff) and grew up in Houston, where I went to college, got married, had kids, established my career, etc. From Houston, moved to Long Island (N.Y.), back to Dallas (1993-2002), then to Seattle.
11. What would you like the audience to take away from the piece you have written?
Answer: I hope they're entertained and engaged by the story and characters. I'm not big on themes or messages. If I can get 'em to laugh, I'm happy. I have simple needs.
John C Davenport's resume:
PRODUCTIONS AND READINGS (starred (**) titles are full-length plays)
2018
**"Asylum in Georgia," staged reading by Pegasus Theater, Dallas, May 2018
"We'll Always Have Memphis" produced by Stage Crafters Community Theatre, Fort Walton Beach, Fla., May 2018
"Fernando" named a finalist (no production) for Shakespeare in the 'Burg festival in Middleburg, Va., April 2018
"Kitchen Sink Drama" produced by Vaude Village, New York City, March 2018
2017
"Embassy Affair" co-produced by Phoenix Theatre and Driftwood Players, Edmonds, Wash., as part of 24-hour theater festival, September 2017
"Welcome to the Club" – Produced by Changing Scene Theater Northwest for Summerplay Festival, Tacoma, September 2017
"Fernando" produced for Renegade Theatre Festival, Lansing, Mich., August 2017
"Clean Routine" produced by Colonial Playhouse for Colonial Quickies one-act festival, Aldan, Pa., June 2017
"Psyche, With an E" produced by Santa Paula (Calif.) Theater Center, June 2017
"Context" produced by Liberty Lake Theatre (WA), March 2017
"An Absurd Concept," "Ariel," "Their Eyes Meet," "An Affair of Note" and "Kitchen Sink Drama" produced by Changing Scene Theatre Northwest under the overall title "Love: You've Got to Be Kidding" for Washington State Community Theatre Association's Kaleidoscope festival, Tacoma, March 2017
"An Absurd Concept," "With This Ring," "Ariel," "Psyche, With an E," "Pros and Cons," "Their Eyes Meet," "Clean Routine," "Tough Love," "An Affair of Note" and "Kitchen Sink Drama" produced by Changing Scene Theatre Northwest under the overall title "Love: You've Got to Be Kidding," Tacoma, February 2017
"Statehood" produced for Snowdance Comedy Festival in Racine, Wis., February 2017
"Kitchen Sink Drama," reading for FACT Words and Wine Reading Series, New York City, January 2017
2016
**"Red Rover" produced by Red Rover Theatre Company at Slate Theater, Seattle, October 2016
"Now You Don't" produced by Phoenix Theatre, Edmonds, Wash., as part of 24-hour theater festival
"Clean Routine" produced by Artists Exchange, Cranston, R.I., July 2016
"Off Course" produced by Spokane Civic Theatre, June 2016
"Kitchen Sink Drama" produced by Resurrection Theatre, Sacramento, Calif., June 2016
"Tough Love" produced for EstroGenius festival, New York, March 2016
**"Red Rover" given staged reading by Seattle Playwrights Circle, March 2016
"We'll Always Have Memphis" produced by Acme Theater, Maynard, Mass., January 2016
2015
"Dignified" produced by Women in Theatre for Kauai Shorts Festival, Hawaii, August 2015
"Write Me" produced by Changing Scene Theater Northwest for Summerplay festival, Tacoma, August 2015
"Life-Changing Email" produced by Otherworld Theatre for Paragon sci-fi and fantasy festival, Chicago, August 2015
"The Oldest Living Human" produced by Otherworld Theatre for Paragon sci-fi and fantasy festival, Chicago, August 2015
"We'll Always Have Memphis" produced by Pandora Theatre, Houston, July 2015
"Bloom" produced by Seattle Playwrights Circle at Phoenix Theatre in Edmonds, Wash., July 2015
"Clean Routine" produced by Seattle Playwrights Circle at Phoenix Theatre in Edmonds, Wash., July 2015
"Life-Changing Email," staged reading presented by Friends of Cashiers Community Library, Cashiers, N.C., July 2015
"Psyche, With an E" produced by Red Mask Players, Danville, Ill., July 2015
"Context," staged reading for Puzzle Theatre Festival, Marble Collegiate Church, New York, June 2015
"We'll Always Have Memphis" produced by Santa Paula (Calif.) Theater Center, June 2015
"Clean Routine" produced by Studio C Artists, Los Angeles, June 2015
"Bloom" produced by Phoenix Stage Company, Naugatuck, Conn., June 2015
"Psyche, With an E" produced by Phoenix Stage Company, Naugatuck, Conn., June 2015
"His Mother Calls Him Petey" produced by Spokane Civic Theatre, June 2015
"We'll Always Have Memphis" produced by Drama Society at Lourdes University, Sylvania, Ohio, April 2015
"Clean Routine" produced by Theatre Three, Port Jefferson, N.Y., March/April 2015
"Kitchen Sink Drama" produced by Strangeloop Theatre, Chicago, February 2015
2014
"Fernando," staged reading by Seattle Playwrights Circle, November 2014
"Public Transportation," reading by Play Club West, Los Angeles, October 2014 "Life-Changing Email"produced by Changing Scene Theater Northwest, Tacoma, Wash., August 2014
"Audio Play" produced by Seattle Playwrights Collective, June 2014
"Off Book" produced by Drama Society of Lourdes University after winning one-act play competition, Sylvania, Ohio, April 2014
"Ariel" in Words and Wine reading series by FACT (Friends Always Creating Theater), New York, April 2014
"Kitchen Sink Drama" produced by Shelterbelt Theater in Omaha, Neb., for From Shelterbelt With Love festival, January/February 2014
2013
"Clean Company" and "Process Digress" given staged readings by Seattle Playwrights Collective in Tops & Bottoms one-act festival, September 2013 (I wrote first half of "Clean Company," second half of "Process Digress")
"Audio Play" produced by Changing Scene Theatre Northwest for Summerplay one-act festival, Bremerton, Wash., August 2013
"Kitchen Sink Drama" produced by Love Creek Productions, New York, June 2013
"Their Eyes Meet," produced by Seattle Playwrights Collective, June 2013
**"Harry's Halfway House" produced by Rebekah Theatre Project, Chicago, May-June 2013
**"The Tablecloth" given staged reading by Seattle Playwrights Collective, May 2013
"An Absurd Concept" produced by Boquete Community Players for Bench-Warmers Festival, Boquete, Panama, May 2013
"Kitchen Sink Drama" produced by Pandora Theatre in Sugar Land, Texas, May 2013
"Ariel" produced by Nylon Fusion Collective, New York, April 2013
"Jesus Is Coming (Look Busy)" produced for Turnip Theatre/American Globe one-act festival, New York, April 2013
"Tough Love" produced by Love Creek Productions, New York, April 2013
"Context" produced by Barrington Stage Company in Pittsfield, Mass., February 2013
"Circle Dance" produced by Elephant Theatre Company in Los Angeles, February 2013
"Ariel" in festival of one-act readings by Seattle Playwrights Collective, Seattle, February 2013
"An Absurd Concept" produced by Shelterbelt Theater in Omaha, Neb., for From Shelterbelt With Love festival, January/February 2013
"Public Transportation" produced by Love Creek Productions, New York, January 2013
(Production history from 2004-2012 available on request!!)
1998
**"Wax Lips" produced by Pegasus Theater, Dallas, October/November 1998
1996
**"Red Rover" produced by Pegasus Theater, Dallas, October/November 1996
(For the rest of John C Davenport's resume, including his production history from 2004-2012, please email us at [email protected]!)