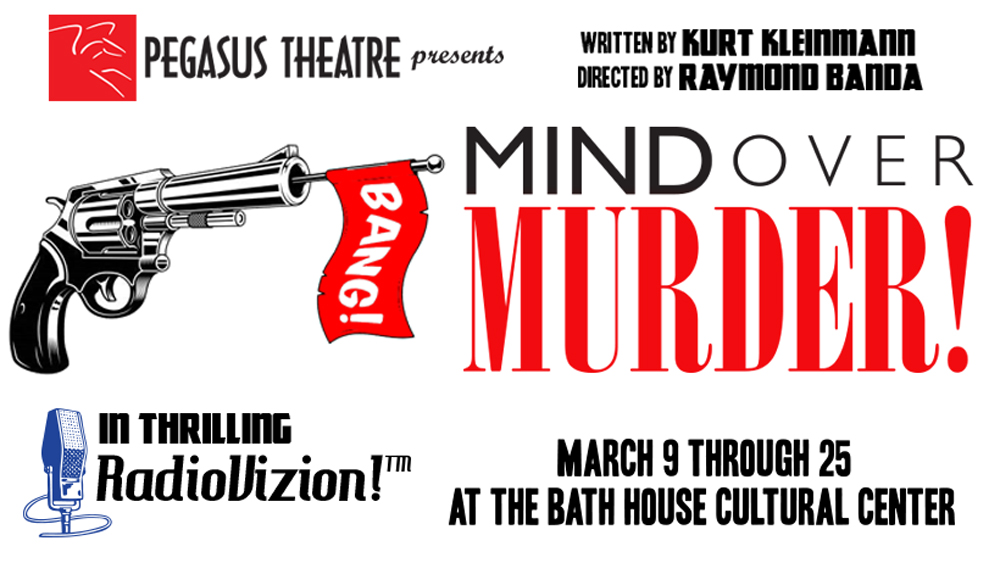 ACTOR AND PRODUCTION STAFF BIOS
Bryan Brooks (Men's Understudy) is happy to get back to Pegasus' stage for the first time since the pre-pandemic production of A Critical Case of Murder! He has been seen acting around town in such venues as Garland Summer Musicals, Pocket Sandwich Theatre, and Garland Civic Theatre. He would love to try his hand at each of the roles in this show but promises not to actually break any legs just to be able to get on stage…
Isabelle Culpepper (Rose Banister) is excited to return to Pegasus, where she was last seen in the RadioVizion™ productions Death Express! as Valentina, and Death: Take 1! as Semiramis. She has also played multiple roles in the DFW theatre community, onstage and backstage. Favorite roles include Gabriella in Boeing Boeing! (Mainstage Irving Las Colinas), and Madge Geisel in The Game's Afoot (Richardson Theatre Center) and any role where she gets to work with her inimitable husband, Jared. Isabelle is thrilled to get back into theatre after laying low for the last few years. Many thanks to her family for their nonstop support.
Jared Culpepper (Detective Lt. Foster) has been part of many Pegasus productions over the past decade-plus, including multiple RadioVizion™ productions. He has also previously been an understudy for Lt. Foster, even taking the stage in Living Black & White™ on a few occasions. Recent DFW acting credits include Robert in Boeing Boeing! and Newton Fuller in George Washington Slept Here (MainStage Irving-Las Colinas), Guy in In a Word (Echo Theatre), and Riff-Raff in The Rocky Horror Show (North Texas Performing Arts). He thanks his wife Isabelle and daughter Sofia for their constant love and support.
Joseph Figueiras (Marko the Magnificent) makes his on-stage debut with Pegasus Theatre in Mind Over Murder! Previously the men's understudy for Death Is a Bad Habit!, he's also been seen in the hit streaming show, The Chosen, and spends most of his time working in voiceover when he's not doing theatre and being on-set!
Gordon Fox (Otis Digby) is pleased to be returning to Pegasus Theatre, where he was last seen as Fluffy in A Proper Man. Other Pegasus credits include The Frequency of Death!, Rehearsal for Murder!, and three separate productions of XSR: Die!  Other local credits include: The Trial of Ebenezer Scrooge (Core Theatre), The Tempest (Dallas Theatre Center), The Fantasticks and 33 Variations (Theatre Three), Unnecessary Farce and A Funny Thing Happened on the Way to the Forum (WaterTower Theatre), Tuesdays with Morrie (Labyrinth Theatre), The Secret Garden (Dallas Children's Theatre), and The Night Alive (Undermain Theatre).
Will Galey (Spuds Gillespie) makes his Dallas debut and first appearance at Pegasus. Will has worked in New York as an actor and comedian, appearing in multiple roles in the sketch comedies, Something Outrageous and Satire Off Broadway at the 45th Street Theatre. He performed in several plays for the Michael Checkhov Theatre Company including Lee (True West), Martin (Fool for Love), Jason (Geography of a Horse Dreamer), and Jim O'Connor (The Glass Menagerie). Will trained at the Upright Citizens Brigade for improv and appeared on numerous NYC comedy stages like Comedy Cellar, Manhattan Comedy Club, and Stand Up NY.
Danny Gallagher (Harry Hunsacker) is performing his first show at Pegasus. He's played Speed in The Odd Couple (North Texas Performing Arts Center) and an overworked delivery man in Barefoot in the Park (Richardson Theatre Centre). He's a regular writer and performer with The Folding Chairs sketch comedy troupe (facebook.com/foldingchairscomedytroupe) and the co-creator of the movie riffing comedy show The Mocky Horror Picture Show at the Texas Theatre (mockyhorror.com). He's written for The Dallas Observer, Jackbox Games, Stomping Ground Comedy Theatre, CNET, The Onion AV Club, and the first ever Halloween episode for Mystery Science Theater 3000.
John Harvey (The Announcer/Stage Manager) is happy to have been with Pegasus Theatre since 2006, and doesn't care who knows it.
Kurt Kleinmann (Artistic Director/Playwright/Sound Designer) is the founder of Pegasus Theatre and is the author of numerous plays, including Death Express!, Full Moon Murders!, The Frequency of Death!, XSR: Die!, The Time of Death!, Death/Take: 1!, and The Color of Death! Mr. Kleinmann is a member of The Dramatists Guild and Actor's Equity Association, and is a co-founder and Past President of the Dallas Theatre League from 1992 to 1996. He has received many awards for his work in the theatre, including a 1995 Leon Rabin Award for Sound Design on Hellcab; the 1997 Ken Bryant Vision Award from The 500 Inc.; and the 2005 Standing Ovation Award from the Dallas Theatre League.
Kellie Monahan-McElroy (Tracy Sloan) is joining Pegasus Theater for the first time with Mind Over Murder! She was last seen in The Fleetwood Project's production of Henry V as Princess Katherine and The Duke of York. Prior to that she was performing at the theater department of TCC Southeast where her favorite roles were Karla (Wonder of the World), Theresa (Circle Mirror Transformation), and her many characters in the yearly Festival of New Plays. She is so excited to be a part of this show, and would like to thank her lovely wife for inspiring and supporting her.
Jonah Munroe (Nigel Grouse) is thrilled to be back in a RadioVision™ production, taking on such a well known role! Jonah was last seen as Andrew Hardwood in Prime Time For Murder! in 2022. Other Pegasus credits Include Dr. James Powell (Death on Delivery!) as well as Robert Stone in the RadioVision™ and film versions of A Trifle Dead! Jonah most recently was seen in the Lyric Stage Dallas production of Aïda at the Majestic Theater in February, and will be starring as Ronald Clifford in the regional premiere of the '90s jukebox musical, Cruel Intentions, a co-production with Stage West and Uptown Players this summer!
Jennifer Nachazel (Nora Grey) is thrilled to be doing her first show with Pegasus Theatre as a part of Mind Over Murder! Before this, she was most recently seen as Lady Laverne in Dracula: The Melodrama (Pocket Sandwich Theatre). She is also a proud graduate of the University of North Texas, with credits from her time there including Mrs. Prentiss (What the Butler Saw), Dawn (All in the Timing), Fiona (Amazing Grace), and Sybil Chase (Private Lives). Jennifer would like to thank her loved ones for their constant love and support.
Johanna Nchekwube (Blanche Merkle) is thrilled to be part of the cast and crew of  Mind Over Murder! This is her first RadioVizion™ show at Pegasus Theatre. Her previous notable productions include Jesus Christ Superstar at WaterTower, Someone Like Me at the Riot Act Theatre, and Memphis the Musical at Theatre Three. A huge thanks goes to all who brought this courageous piece of art together, and to my family and friends. IG: @jolove1
Ben Scroth (Doc Hopper) is an award-winning North Texas actor, technician, and playwright. He wrote the plays Sherlock Holmes vs. Godzilla (winner of the Steve Lovett Award for Outstanding New Work by a Local Playwright) and The Tragical Farce of Jimmy Pine. His adaptation of Chekhov's Cherry Orchard opened the inaugural season of the Classics Theatre Project. Ben is a past founding member of Upstart Productions' artistic staff and a past member of Nouveau 47's ensemble. Ben has worked many seasons with Pegasus in many positions. He is a member of the Dramatists Guild of America, Inc.
Juiliana Stalter (Women's Understudy) is so happy to join Pegasus in her first production with this amazing theatre. When not studying parts, she performs regularly at Dallas Comedy Club with Primetime Improv and as a creator of award-winning sketches. She can also be seen monthly as the title character in The Writer and the Rancher at the Aldredge House on Swiss Avenue. Prior to returning to DFW in 2018, she enjoyed performing at regional theaters in the Rheinland of Germany. By day, she works as a counselor to support her theater habit.
Barbara Weinberger (Executive Director, Pre-Show Speaker) is a producer, problem-solver, and public speaker who has worked with Pegasus Theatre for the past 33 years. She is also the wife and editor for her amazing husband, Kurt Kleinmann, and looks forward to many more years of theatrical adventures together.
Frankie Whitaker (Douglas Bailey) recently relocated from Seattle to Dallas and started classes with The Playground Acting Program. This is his second stage role, the first being with Echo Theater where he played the adult roles (Father, Mother, Teacher, and Doctor) in Daisy Violet the Bitch Beast King. Hopefully, this is just the start for him.