We continue of Profiles in Talent series with coverage of the lovely and talented Rachel Rouse! Learn about this engaging theatre artist!
How long have you been involved in theatre?
20 years exactly. My first show was in January of 1996.
How long have you been involved with Pegasus Theatre?
Since 2001 off and on. [Editor's note: Rachel's first show with us was Cowboys by Clint Jefferies and Paul Johnson, and she was delightful in it!]
Any favorite moments so far with Pegasus that stand out for you?
Seeing Full Moon Murders! on New Year's Eve at the Eisemann Center. The combination of the holiday, the fantastic technical aspects of the show, and the wonderful performance space was magical.
You have a role in the upcoming RadioVizion™ production of The Frequency of Death! by Kurt Kleinmann. Describe your character for us.
She's a no-nonsense "girl Friday" type. Think of Miss Imbrie in Philadelphia Story.
What do you do when you aren't working with Pegasus?
I'm a senior project manager at HOK. I'm also a mom to Evelyn (3.5 years old) and Ford (6 months old).
Looking back at all your experiences, who would you say has influenced you the most in your theatrical career?
My mom and dad. They encouraged me to try and try again.
What comes next for you?
A: Back to my life of Babies and Buildings until the kids are a little more self-sufficient!
---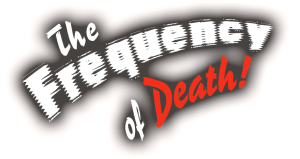 Experience the magic of RadioVizion™ in The Frequency of Death! running March 25 through April 3, 2016 at the Bath House Cultural Center, with a special encore performance April 4, 2016 at the Eisemann Center in Richardson. Tickets on sale now!