We continue our Profiles in Talent series today with some background on a young, talented actor who is new to Pegasus: Jonah Munroe! Read about this rising star in today's blog!
How long have you been involved in theatre?
I have been involved in theater since the 6th grade.
How long have you been involved with Pegasus Theatre?
The current show (a RadioVizion™ production of The Frequency of Death! by Kurt Kleinmann) is the first show I have been a part of at Pegasus Theatre (hopefully not the last!) [Editor's note: We share that hope!]
Describe your character in The Frequency of Death!
I'm playing Art Nichols, his name is his description: he is an artist, or at least a sound artist. He is the sound effects coordinator for WKIL, yet he also has a past that tells where he got his name, as well as a secret life, which shall be revealed in the show.
What do you do when you aren't working with Pegasus?
When I am not involved in rehearsals or performances, I'm either working at my day job, reading, or working on new art pieces in my spare time.
Looking back at all your experiences, what would you say has influenced you the most in your theatrical career?
What motivates me in doing theater is auditioning. The chance to show what you can do is rewarding, because you know there are people who are at least interested in what you might be capable of, and if you get the gig, it boosts confidence while giving you the opportunity to do what you love.
What comes next for you?
I plan on doing more shows around the DFW area, getting the chance to develop my skills while also being able to tell a great story in the process.
---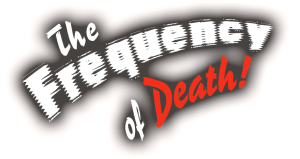 Experience the magic of RadioVizion™ in The Frequency of Death! running March 25 through April 3, 2016 at the Bath House Cultural Center, with a special encore performance April 4, 2016 at the Eisemann Center in Richardson. Tickets on sale now!