Get a behind-the-scenes look at Octavia Thomas, part of the talented cast of Kurt Kleinmann's new play, The Coarse Actor Rises! Read about Octavia below!
How long have you been involved in theatre?
I've performed in theater since primary school. My sisters and I would even write plays and put them on for our parents. (They totally indulged us – I'm sure our plays were terrible and random). In high school, my first official (?) theatrical production was a melodrama in which I played a scrappy young boy that helped the hero save the damsel in distress. Since then, I've gradually increased my exposure to various forms of theatre – including some experimental works during college, tons of musical theatre, pantos, music halls and a few radio plays.
How long have you been involved with Pegasus Theatre?
First time performer! I've known about the organization for YEARS, but this is the first time that I've been directly involved in any capacity.
Any favorite moments in your theatre career that stand out?
There are already a ton from this production (The Coarse Actor Rises!) and I have soooo many from previous productions but here are a few:
Playing a villain in my first panto.  It was pretty awesome to hear boos and hisses. (I did get some redemption in the end, though.)
Touring with Dallas Children's Theater for A Midnight Cry was one of my greatest life experiences – I'd recommend it to anyone.
RENT – still love the music and we had an AWESOME cast
Playing Meredith in Batboy: the music was so unexpectedly good and I worked with so many talented people
You have a role in the current production of The Coarse Actor Rises! by Kurt Kleinmann. How does it feel to be in a world premiere?
I'm always up for a challenge and this has been a very different process that I hope will stretch me in many ways. It's a great opportunity but daunting at the same time. Does this mean that I get stamped in a book somewhere as the originating actor???? 🙂
What do you do when you aren't working with Pegasus?
During the day, I work in business analysis – typically working with large datasets to discover trends that will ultimately provide insight and direction beneficial to the organization. Currently, my focus has been with budgets and forecasting to ensure our models are aligned with leadership expectations and explaining the variances necessary.  Evenings or weekends, I may do volunteer work (prior to this show, I'd been at LIFT – Literacy Instruction for Texas – for about year and the Reading and Radio Resource Center for several years before LIFT), movie screenings or productions with other theaters in DFW.
Looking back at all your experiences, who would you say has influenced you the most in your theatrical career?
A friend of mine in college was just naturally gifted: Incredibly intelligent (she majored in mathematics with a focus in non-Euclidian geometry), she was beautiful and engaging, but open and humble. Ultimately, she approached every experience or person that she met without any initial judgment. It's something that I continue to struggle with, but I use it to help ground my work in theater: to simply be open to the process and understand that something can be gained from every experience.
What comes next for you after this show?
I'll likely take a break as I'll be vacationing in Japan for a few weeks in October. But I will continue to audition. Maybe I'll find something for Christmas. But if not, I hope to see you next year!
---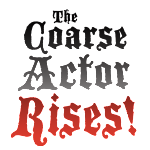 See Octavia Thomas in the world premiere of Kurt Kleinmann's
The Coarse Actor Rises!
running August 11-27, 2016, at the Bath House Cultural Center at scenic White Rock Lake. Purchase your tickets now at
http://bpt.me/2566427!