Being a stage manager requires an odd mix of talent, a blend of artistic and management skills. Luckily for us, LeeAnn has just the right blend!
How long have you been involved in theatre?
I have been involved with theatre since I was 12 years old so a full decade now.
How long have you been involved with Pegasus Theatre?
This is my first show with Pegasus and it has been great!
Any favourite moments in your theatre career that stand out?
My theatre career is full of so many wonderful memories and friendships. It's so difficult to choose between ten years' worth of memories. One of the most unforgettable experiences would be getting to vomit on stage. Last fall I was in Tarrant County College North East campus's production of God of Carnage. In this show, my character vomiting is an important plot point. So, we had this crazy vomit machine rigged up through the couch and tubing in the costume. It was difficult to continue the scene as it was probably the most disgusting scene any of us have ever had to perform.
You worked on the current production of The Coarse Actor Rises! by Kurt Kleinmann. How does it feel to work on a world premiere?
I love working on new plays. It's very freeing knowing that your work isn't going to be compared to who did it before you.
What do you do when you aren't working with Pegasus?
I just transferred to Texas Women's University so starting this fall I will be working towards finishing my theatre degree.
Looking back at all your experiences, who would you say has influenced you the most in your theatrical career?
I would say the person who has influenced my theatre career the most would be Mark-Brian Sonna. I would never have started stage managing if not for him offering me the opportunity.
What comes next for you after this show?
After this show, I will be starting my first semester at TWU. The next show I will be working on is the return of MBS Production's Slave Letters.
---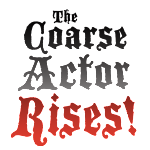 Only two days left to see the world premiere of Kurt Kleinmann's
The Coarse Actor Rises!
 before it closes on August 27, 2016! Performing at the Bath House Cultural Center on scenic White Rock Lake. Purchase your tickets now at
http://bpt.me/2566427!