We couldn't be prouder of the cast for Kurt Kleinmann's new play, The Coarse Actor Rises! Read about the engaging Johanna Nchekwube below!
How long have you been involved in theatre?
Since Junior High, I was the silly one in class and would always get into trouble until my teacher lead me to the direction of theatre and I have been in love ever since!
How long have you been involved with Pegasus Theatre?
This is my debut performance with this amazing theatre. It is such a humbling experience to be working with this beautiful creative team.
Any favorite moments in your theatre career that stand out?
There are a plethora of moments that stand out and one of them was having Lin-Manuel Miranda watch and give advice on a performance with another amazing cast.
You have a role in the upcoming production of The Coarse Actor Rises! by Kurt Kleinmann. How does it feel to be in a world premiere?
WOW! Having read that question it makes me nervous. But honestly, it is beyond an honor to receive this gift and share the brilliance with the world.
What do you do when you aren't working with Pegasus?
Exploring my existence (laugh at myself), but really, I am into this book right now call Americanah by Chimamanda Ngozi Adichie and it fantastic.
Looking back at all your experiences, who would you say has influenced you the most in your theatrical career?
So many people equally fit in this category, but I would have to say my parents and teachers at my alma mater. They were all beyond superb.
What comes next for you after this show?
I am in another show at Firehouse Theatre and I am excited!
---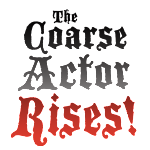 See Johanna Nchekwube in the world premiere of Kurt Kleinmann's
The Coarse Actor Rises!
running August 11-27, 2016, at the Bath House Cultural Center at scenic White Rock Lake. Purchase your tickets now at
http://bpt.me/2566427!