Today our blog focuses on Jared Culpepper, part of the talented cast of Kurt Kleinmann's new play, The Coarse Actor Rises! Read about Jared below!
How long have you been involved in theatre?
I started at the age of 8, playing Buddy (Truman Capote) in an adaptation of The Thanksgiving Visitor, in his hometown of Monroeville, Alabama. That led to the roles of Dill, and in subsequent years, Jem in Monroeville's renowned annual production of To Kill A Mockingbird. I've been at it pretty much non-stop ever since, trying my hand at whatever role I can: acting, directing, stage managing, producing… I've tried pretty much everything.
How long have you been involved with Pegasus Theatre?
I first worked with Pegasus in 2011-12 and have worked on several projects with the company since, in various capacities.
Any favorite moments so far with Pegasus that stand out for you?
The experience of going onto the Living Black & White™ stage in full makeup the first time was a surreal experience I'll never forget. I was an understudy and hadn't had a full rehearsal (let alone a dress rehearsal in full makeup!) so the first time I stepped out into a fully monochrome world was during a show—no time to stop and take it all in, just a total "We're not in Kansas anymore!" moment… only backwards, I suppose. It was an absolute rush.
Coming in closely tied for second place would be the directing Hate Mail and None of the Above in back-to-back years for Pegasus, my favorite directing experiences to date. [Editor's note: Both shows received rave reviews, and Hate Mail broke box office attendance records for an August show, a very difficult feat indeed!]
What keeps you coming back?
I like working with people I know. I'm from rural Alabama, originally, so familiarity is a big part of my fiber.
There was a professional baseball player many years ago (I wish I could track down the source) who said that being from a small town, training camp was "the first time (he) met someone (he) didn't already know." I can relate. A stage production is a team effort. I like to know I can rely on my teammates.
You have a role in the current production of The Coarse Actor Rises! by Kurt Kleinmann. Describe your character for us.
Emilio is a fairly classic tech-nerd, who's ready to take some risks and put himself out there—at least, in theory. In actuality, he's taking a big leap socially and, while well-intentioned, is seriously lacking in social graces, tact, and the confidence necessary to take on tasks that many consider routine everyday encounters. He's brave but terrified. Kind, but impolite. Really a fun role to take on. I've had to remind myself that I don't really need to stretch much to get in touch with his nerdiness.
What do you do when you aren't working with Pegasus?
I'm in print and promotional sales by day. My nights are mostly spent with my daughter and wife, also card-carrying nerds such as myself, but much cooler than I. My daughter's rapidly approaching her teens, so I spend as many nights with her as I can while that's still an option. My wife, daughter, and I are all pretty nerdy so we watch a lot of movies and go to comic cons, shop for toys, that sort of thing. I'm very lucky.
Looking back at all your experiences, who would you say has influenced you the most in your theatrical career?
Tom Gray, who was the director for Joe Jefferson Playhouse in Mobile, Alabama, for many years, was the first director—or person, really—to encourage me to pursue professional theatre. I was 16 and thought that I would, naturally, one day be a famous movie star. I was surrounded by a mixture of people who either agreed with me blindly (or maybe not at all; they could've been patronizing me) or figured I was just dreaming. He put into perspective for me that I could be a legitimate, professional actor if I would focus on the satisfaction of the art and forget about accolades or financial gain. He passed away a few years ago, and I regret I never told him what an impact that had on me.
What comes next for you?
I've always got my eyes open for any projects that may be right for me, but for now, I'm planning on nerding it up at home with my wife and daughter for the foreseeable future.
---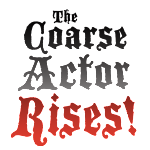 See Jared Culpepper in the world premiere of Kurt Kleinmann's
The Coarse Actor Rises!
running August 11-27, 2016, at the Bath House Cultural Center at scenic White Rock Lake. Purchase your tickets now at
http://bpt.me/2566427!