We are blessed with another incredible cast, this one for Kurt Kleinmann's new play, The Coarse Actor Rises! Read about the talented Chad Spear below!
How long have you been involved in theatre?
I started in theatre in high school so I've been an actor for about 21 years now.
How long have you been involved with Pegasus Theatre?
My first show with Pegasus was Mind Over Murder! when I appeared in the opening film. The very next year I was cast as the nasty critic Alexander Nathan in A Critical Case of Murder! The Coarse Actor Rises! will be my third production with Pegasus.
Any favorite moments in your theatre career that stand out?
I've got to say that my favorite moment in my theatre career has to be when I was selected as 1 of 10 people in the world to perform for Princess Caroline of Monaco. I actually got to meet Princess Caroline in person and was able to make her laugh with a joke. I think she was just being nice. I had no idea how to act around Royalty.
You have a role in the upcoming production of The Coarse Actor Rises! by Kurt Kleinmann. How does it feel to be in a world premiere?
It's always an honor and a bit nerve wracking to be a part of a world premiere. No one has performed your role so you have nothing to go on. Be that as it may, I love the fact that I'm the first person to perform a role. It's always great fun to see the show come to life.
What do you do when you aren't working with Pegasus?
During the day I work as a CAD Operator for Thomas Printworks. That's a fancy way of saying that I print blueprints. Yep, it's as thrilling as it sounds.
Looking back at all your experiences, who would you say has influenced you the most in your theatrical career?
This one is a tie between two people. My high school theatre teacher, Shawn Saunders, gave me my start in theatre. She gave me my first role three days before the show opened. Basically, she threw me to the wolves. I've never regretted accepting that role. She helped me find my passion. We are still great friends today. The other person that has had a great influence on me in theatre has to be Marianne Galloway. Marianne gave me my first role in Dallas. I've never loved working with anyone more than I loved working with her. We just get each other. She has also pushed me at every turn and made me a better actor every step of the way. I love both Shawn and Marianne and I can't thank them enough for what they have done for me.
What comes next for you after this show?
Sleep. Lots of sleep. I will also need to spend a lot of time with my girlfriend. I'm also sure I'll need to mow the lawn at some point.
---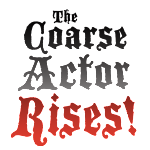 See Chad Spear in the world premiere of Kurt Kleinmann's
The Coarse Actor Rises!
running August 11-27, 2016, at the Bath House Cultural Center at scenic White Rock Lake. Purchase your tickets now at
http://bpt.me/2566427!