Read on for a behind-the-scenes look at Camille Long, a member of the talented cast of Kurt Kleinmann's new play, The Coarse Actor Rises!
How long have you been involved in theatre?
I was always putting on shows as a kid and carried that drive all through school; however, after graduating from UTA with a BFA in Theatre Performance, I took a hiatus. In March 2015, I enrolled in an improvisation class and, well, nobody is ever putting Baby in a corner again.
How long have you been involved with Pegasus Theatre?
This is my first production as a cast member with Pegasus Theatre.
Any favorite moments in your theatre career that stand out?
In my freshman year at UNT, I was cast as the ingénue in a student-directed version of Frankenstein. In a scene where Victor, the mad scientist, is elated that the monster comes to life, he was directed to pick me up and throw me on the bed. He did, and the bed came crashing to the ground. From that moment on, it was completely impossible to not play the laugh. Every line delivered on a broken bed with a mad scientist whispering in your ear sounds hilarious. I learned two very important lessons that night. I'm not an ingénue, and always walk the set before a show, check everything.
You have a role in the upcoming production of The Coarse Actor Rises! by Kurt Kleinmann. How does it feel to be in a world premiere?
It feels like a cross between winning the title of prom queen and being that little monkey that rides on the back of the dog at the rodeo.
What do you do when you aren't working with Pegasus?
I am fortunate to work with young creative minds at a fabulous graphic design studio. Outside of work, I can generally be found at The Dallas Comedy House rehearsing or performing with my troupe, Midnight Passion.
Looking back at all your experiences, who would you say has influenced you the most in your theatrical career?
Dr. Natalie Gaupp, Playwright in Residence for UTA Theatre Arts, is one of those people who allows everyone in the room to feel important; David Allison is a teacher who empowered me to believe that I could do anything and let me fail without judgment; and, of course, the collective "we" of the Dallas Comedy House. At DCH, there exists a wonderful group of like-minded people with whom I share a special bond.
What comes next for you after this show?
I don't know. But I will constantly be scanning the horizon for opportunities and ways to perform. I've cracked through the barrier of self-exile, and I'm here to play.
---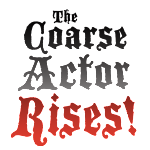 See Camille Long in the world premiere of Kurt Kleinmann's
The Coarse Actor Rises!
running through August 27, 2016, at the Bath House Cultural Center at scenic White Rock Lake. Purchase your tickets now at
http://bpt.me/2566427!