We are very blessed to work with some incredibly talented designers! Today read about Angela Boggs, the costume designer for our wacky comedy The Coarse Actor Rises! by Kurt Kleinmann.
How long have you been involved in theatre?
I have been doing theatre seriously since high school when I fell in love and realized it was what I wanted to pursue for the rest of my life. My first production was To Gillian on Her 37th Birthday and I'll never forget it was during that play that I discovered I was hooked forever.
How long have you been involved with Pegasus Theatre?
This is my first production with Pegasus and I have loved every minute of it.
Any favorite moments in your theatre career that stand out?
Designing costume pieces for a ballet production of Moulin Rouge in college was by far my favorite experience. It was both terrifying and exhilarating and the feeling I had seeing my pieces onstage was surreal.
You worked on the current production of The Coarse Actor Rises! by Kurt Kleinmann. How does it feel to work on a world premiere?
It feels really cool. I always love the reaction I get when I get to tell people I'm working on a production of a completely original script that I got to be a part of WHILE it was being formed around me.
What do you do when you aren't working with Pegasus?
I am a dance teacher, which takes up a lot of my free time. So all the time I'm either just choreographing or yelling at kids to "be sharper!"
Looking back at all your experiences, who would you say has influenced you the most in your theatrical career?
My first theatre mentor, Anissa May. She was so much more than a teacher to me. She taught me how beautiful theatre is in that every performance is completely its own entity and can never be recreated exactly the same. I love that idea
What comes next for you after this show?
Finishing my degree and lots more design work!
---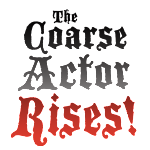 Only two days left to see the world premiere of Kurt Kleinmann's
The Coarse Actor Rises!
 before it closes on August 27, 2016! Performing at the Bath House Cultural Center on scenic White Rock Lake. Purchase your tickets now at
http://bpt.me/2566427!