Pegasus Theatre announces Non-Equity auditions for the upcoming RadioVizion™ production at the Bath House Cultural Center of Another Murder, Another Show!, a comedy murder-mystery by Kurt Kleinmann. RadioVizion™ is an alternative technique devised by Pegasus Theatre for the presentation of the Living Black & White™ series of Harry Hunsacker adventures. RadioVizion™ does not employ the trade-secret makeup but instead focuses on recreating the experience and glamour of being in a live radio studio of the 1930's and 1940's. Live sound effects, actors at period style live microphones, and costumes evocative of the era complete the effect. Raymond Banda will direct.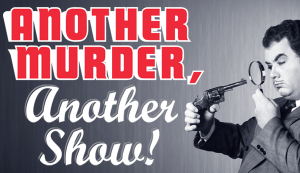 It's the night of The Wallys–an awards show that honors excellence in theatre–and last minute rehearsals are under way. Stumbling into the wrong theatre are Harry Hunsacker, would-be actor turned would-be detective, and Nigel Grouse, Harry's paid-by-the-hour assistant and friend. Before they can be ushered out of the theatre a murder is committed and Harry has a plan to sleuth out the identity of the murderer. Harry and Nigel will adopt a series of disguises to keep the murderer off-balance and make him (or her) think an army of famous detectives is hot on the trail!
Audition Details:

Saturday, February 18, 2017 from 2-5pm

Sunday, February 19, 2017 from 5-9pm

Audition Location:
First United Lutheran Church
6202 E. Mockingbird Lane
Dallas, TX 75214
Callback Dates:
Monday, February 20, 2017 as needed
Rehearsal Dates:
Beginning March 6, 2017 at the First United Lutheran Church in Dallas, TX
Performance Dates:
March 16 through March 25, 2017 at the Bath House Cultural Center
Requirements:

Appointments slots may be reserved online via www.SignUpGenius.com/go/20F084FA4A62AA6FA7-another
Please bring a resume and headshot.
Actor auditions will consist of readings from the script. Sides are available via the link at the bottom of this page.

Roles Available:
The roles of Harry Hunsacker, Nigel Grouse and Lt. Foster have been cast.

Leon Belasco – Director of the Walter Chappell Awards, male, 40's – 50's
George Chandler – Chorus dancer and actor, male, 20's
Gloria Stuart – Chorus dancer and actress, female, 20's
Mary Gordon – Chorus Dancer and actress, female 20's
Dayton Lummis – Actor, he's a loud-mouth bully until someone bigger threatens him and then he turns into a nervous, timid, cowardly type. Male 30's
Jimmy Conlin – Two-bit hoodlum, male, 30's – 40s
Florence Rice – Chairwoman of the theatre guild, female, 40's – 50's
Rolfe Sedan – Mysterious businessman, possibly foreign, male, 30's – 40's

Audition Sides:
AMAS audition scenes
Pegasus Theatre is an Equal Opportunity Employer and encourages all actors to audition regardless of race, ethnic origin, religious preference, sexual preference, political affiliation, or nationality.