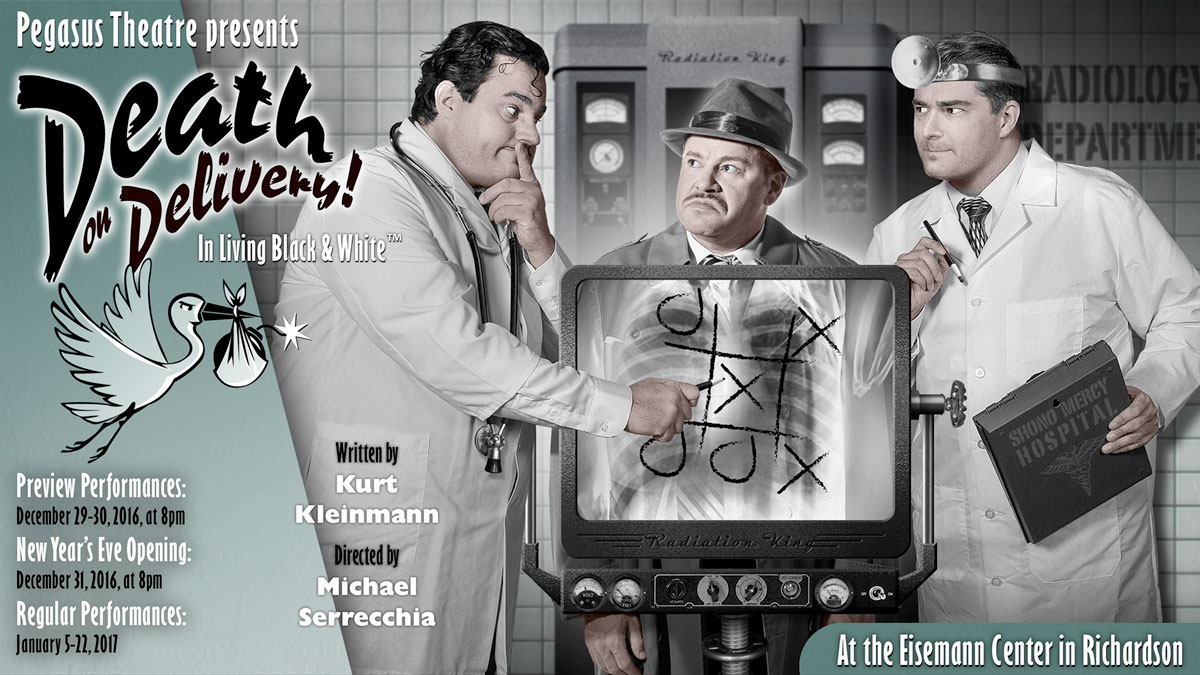 Death on Delivery!
Written by Kurt Kleinmann
Directed by Michael Serrecchia
Presented in Living Black & White™
Previews December 29-30, 2016
December 31, 2015-January 22, 2016
At the Charles W. Eisemann Center in Richardson
This December and January, join us for a brand new family-friendly Harry Hunsacker adventure, presented (of course) in Living Black & White™! This time, the setting is a hospital where Lt. Foster's wife (Beverly, a.k.a. Bubbles) has just given birth to their first child, Harriet.
But danger lurks around every corner! Our intrepid trio (Harry, his paid-by-the-hour assistant Nigel Grouse, and Lt. Foster of the "real" police) must solve a mysterious string of murders before a madman claims one of their own. With Harry on the case, it should be "child's play"!
Ben Bryant and Chad Cline return in their roles as Nigel Grouse and Lt. Foster, respectively. Scott Nixon returns in the role of Harry Hunsacker, this time performing that role at all scheduled performances.
Production photos by Alan Abair Photography. Graphic Design by James Nelms.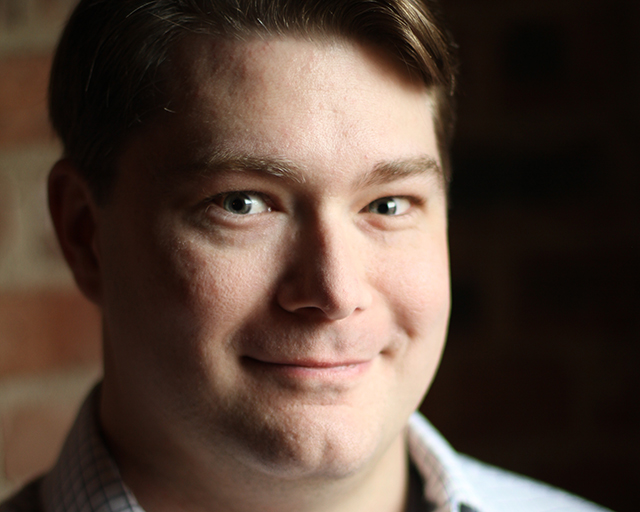 Ben Bryant
Nigel Grouse
Ben has regularly played Nigel since 2010's
Death Express
. Recent local credits include
Dreaming Electric
at The Ochre House and
King Lear
for Shakespeare Dallas. Voice credits include various anime produced by Funimation Entertainment, including
Fairy Tail, One Piece,
and
Garo the Animation
. Offstage, Ben has designed and worked crew for multiple local theatres, Pegasus among them. He enjoys fresh Snickerdoodles, but then again, who doesn't. Interested parties may follow him on Twitter: @AariaVanTebbs.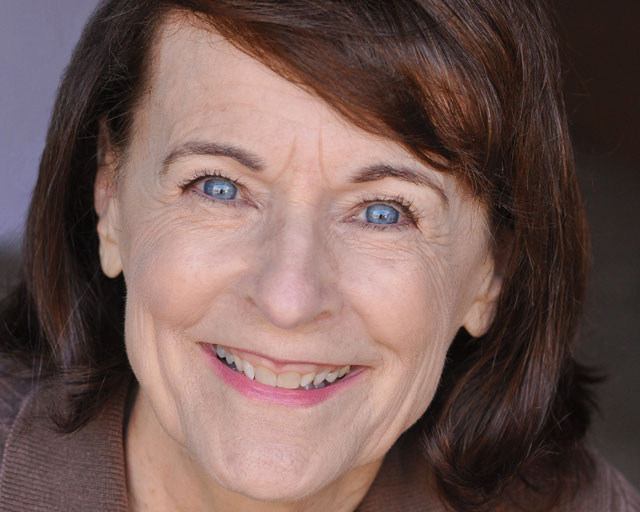 Allyn Carrell
Mrs. Schwartzman
Allyn is so happy to be working again with Pegasus. A Dallas actor, she has also performed in many other area theaters, including WaterTower Theatre, Dallas Children's Theater, Uptown Players, Pocket Sandwich Theatre, Theatre Britain, and One Thirty Productions. While her heart belongs to theater, Allyn also works in film, television, and voice-over productions. She is represented in Texas by Linda McAlister Talent.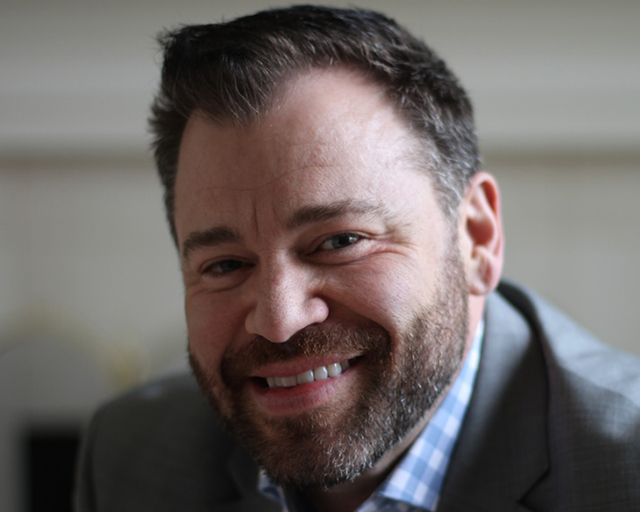 Chad Cline
Lt. Foster
Chad has played Lt. Foster since
Death is No Small Change!
in 2011. He stays busy doing commercial, film, and voice work. He trained at Groundlings Theatre in L.A. and continues to perform and teach improvisation locally. When not performing he stays busy with Cline Salon, located in Preston Center, voted a top 5 Dallas Salon by Dallas Observer Readers Poll. Come get your hair done by Lt. Foster! He is represented by the Mary Collins Agency.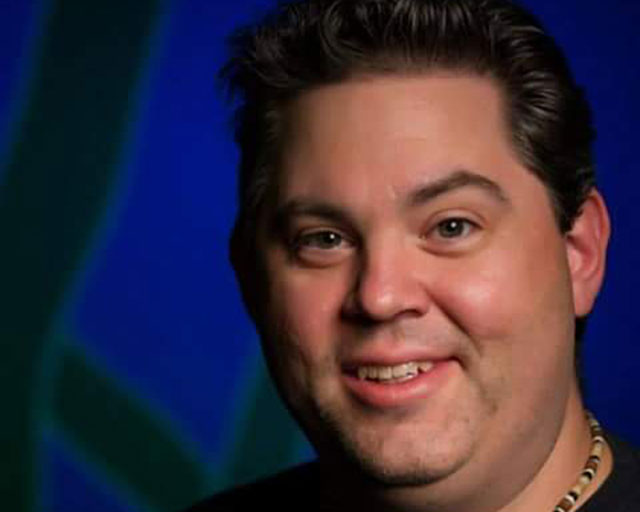 Bryan Douglas
Dr. Konrad Styner
Bryan is pleased to be working with Pegasus Theatre again. He's also worked as an actor and in various technical capacities with Tarrant Actor's Regional Theatre, Stolen Shakespeare Guild, Echo Theatre, Pocket Sandwich Theater, Imagination Players/KD College, Texas Radio Theatre Company, Level Ground Arts and several others in the DFW & Kansas City areas. He apprenticed as an actor with Vassar College/NY Stage & Film's Powerhouse Apprentice Program. Proudly served in the Army Reserve (2002-11).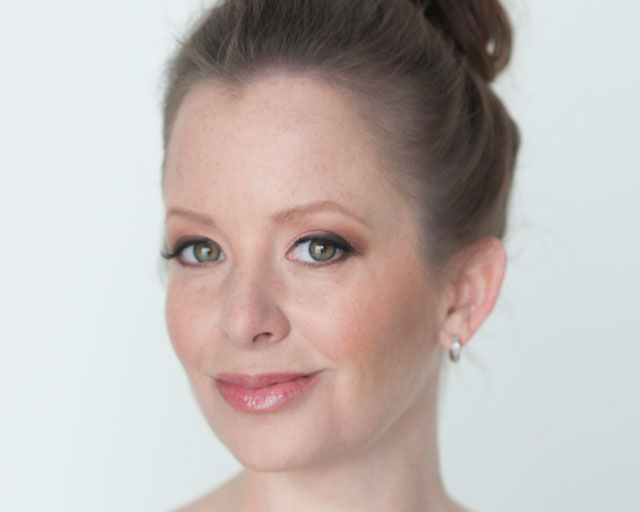 Dayna S. Fries
Nurse Gloria Crabtree
Dayna is a professional housewife employed by her rock star husband Brian, and a semi-professional student at Brookhaven Community College. Previous roles include Truvy in Steel Magnolias, Blanche Dubois in A Streetcar Named Desire, Lady Macbeth in Macbeth and LCDR Joanne Galloway in A Few Good Men. Eternal gratitude to Brian F., Darise E., Michael R., Lisa D., Jason L., Andrew A., Pure Barre Addison and most especially Pegasus Theatre for this opportunity. Enjoy the show!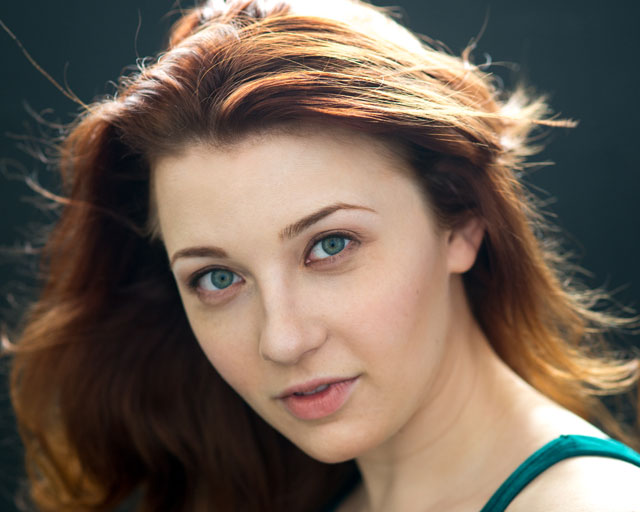 Beth Lipton
Nora Rogers
Beth is elated to go grey a third time, after performing in Death Is A Bad Habit! and It's Beginning…Murder! She's also appeared with Mainstage ILC, Contemporary Theatre of Dallas, Runway Theatre, Denton Community Theatre, and Plano Children's Theatre, with choreography credits at GLCT, Onstage In Bedford, and The Firehouse Theatre. Thanks to friends, family, and her awesome God for letting her learn and love through art. A huger thank you to Tim Brawner and Alex Krus, for reasons. 12 seconds left.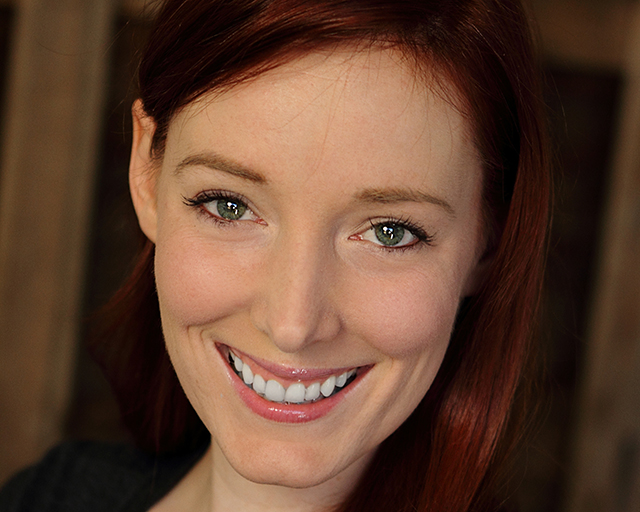 Alex Moore
Dr. Emma Kruger
Alex returns for a fifth time to the Pegasus stage. Her previous roles include Jean Hudson/XSR:DIE!, Jenny Stewart/Rehearsal for Murder!, Gloria Stuart/Another Murder, Another Show!, Sister Rachel in 2016's Death is a Bad Habit!, and appears frequently in their RadioVizion™ series. She is a voice actor with Funimation, voicing Suzuno on The Devil is a Part-Timer!, Flare Corona on Fairy Tail, and Mitsuba on Seraph of the End. You can follow her hijinx on Twitter @plus3toogres and at alexmooreactor.com.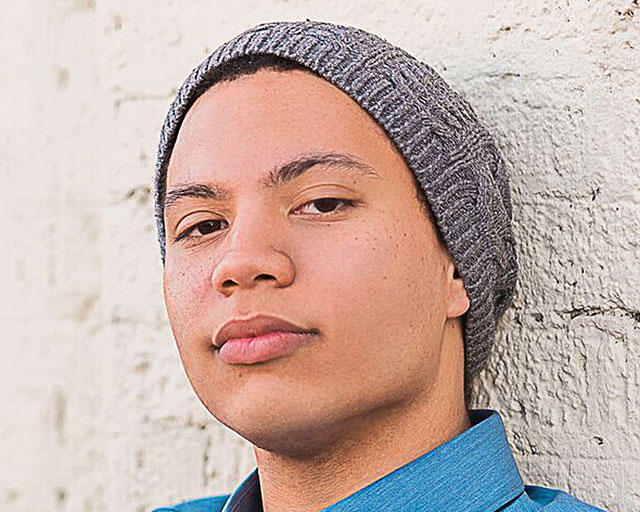 Jonah Munroe
Dr. James Powell
Jonah is thrilled to be working with this cast in his third Pegasus Theater production, and first Living Black & White™ show. Other Pegasus roles include Robert Stone/A Trifle Dead, and Art Nichols/The Frequency of Death. Recently credits in 2016 include Ensemble/Chicago (Mainstage Irving), Sky Masterson/Guys and Dolls (Theater Arlington), and You Can't Stop the Beat (Artisan Center Theater). He would like to thank Kurt Kleinmann for this opportunity, as well as his cast for being just plain awesome.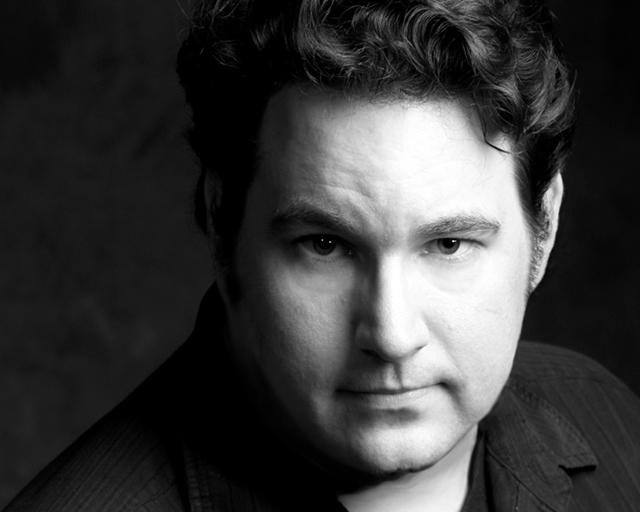 Scott Nixon
Harry Hunsacker
Death on Delivery! marks Scott's 6th straight year with Pegasus Theatre. He has appeared in theatres around the Metroplex including Theatre Three, Theatre Arlington, Mainstage Irving/Las Colinas, Pocket Sandwich, and Runway Theatre among others. Directing credits include The Beauty Queen of Leenane, Laughter On The 23rd Floor, No Sex Please, We're British & Lost in Yonkers. He serves as artistic and technical director of Theatre on the Edge with MILC. Many thanks to Kurt and Barb for their trust and support.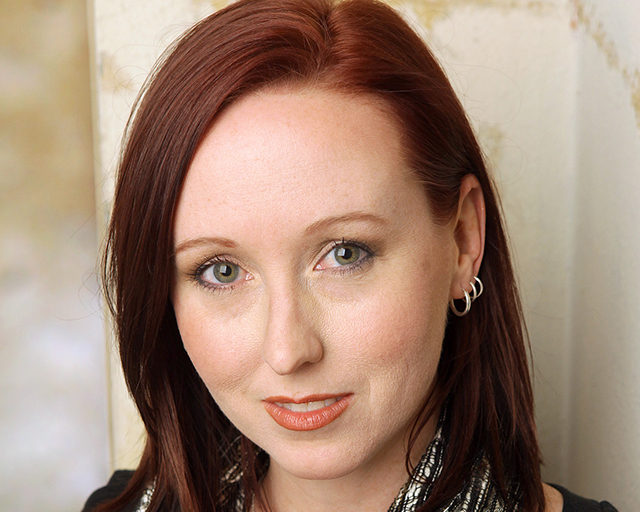 Leslie Patrick
Beverly "Bubbles" Foster
Leslie has worked onstage as well as backstage for many Dallas area theatres. She has performed in a total of 16 Living Black & White™ productions. Leslie has also worked with Echo Theatre, Plano Repertory Theatre, Act I Prod, Theatre 3, Audacity Prod, Uptown Players, and The Bathhouse Theatre Collective. Some of her favorite roles include 52 Pick-up (Woman), The Collection (Stella), Arsenic & Roses (Katherine), Die Mommy Die! (Edith), Mauritius (Jackie), and Boy Gets Girl (Harriet).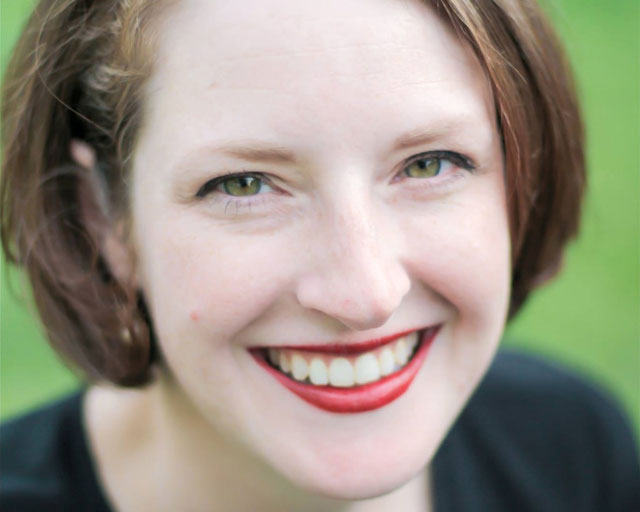 Rachel Rouse
Nurse Laraine Turner
Rachel has been on stage, backstage, and a general nuisance at Pegasus Theatre since 2001. She is thrilled to be making her debut in Living Black & White™. Patrons may recall her from last season's RadioVizion™ productions of A Trifle Dead! (Helen Reeves) and The Frequency of Death! (Zoey) or in her capacity as Volunteer Coordinator. By day, she is Practice Leader for Corporate Interiors at HOK and mama to Evelyn and Ford. All my love to Marc without whom none of this would be possible.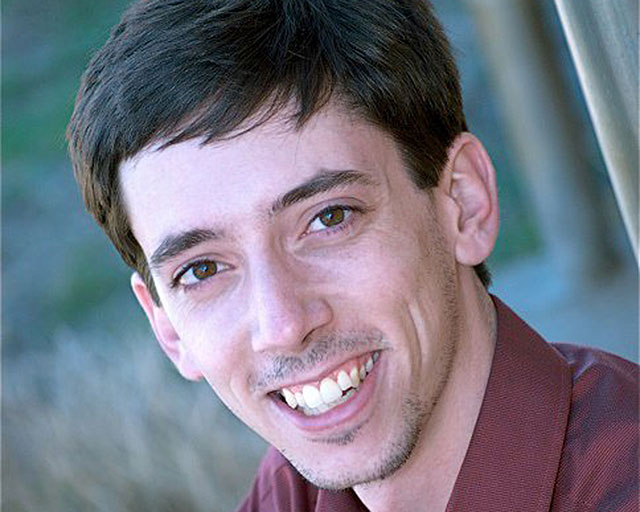 Christian Schmoker
Bill Parker
Christian is proud to be joining Pegasus Theatre on stage for the first time. He has performed for Fort Worth audiences with Stolen Shakespeare Guild in roles including Brick Cat on a Hot Tin Roof, Herbert, Minstrel and others Spamalot, Mercutio Romeo and Juliet, and Touchstone As You Like It. He sang in the Louisiana Lyric Opera's production of Miss Saigon. By day, he can be found fixing computers for Metroplex dealerships. He would like to thank his family and friends for their enduring support.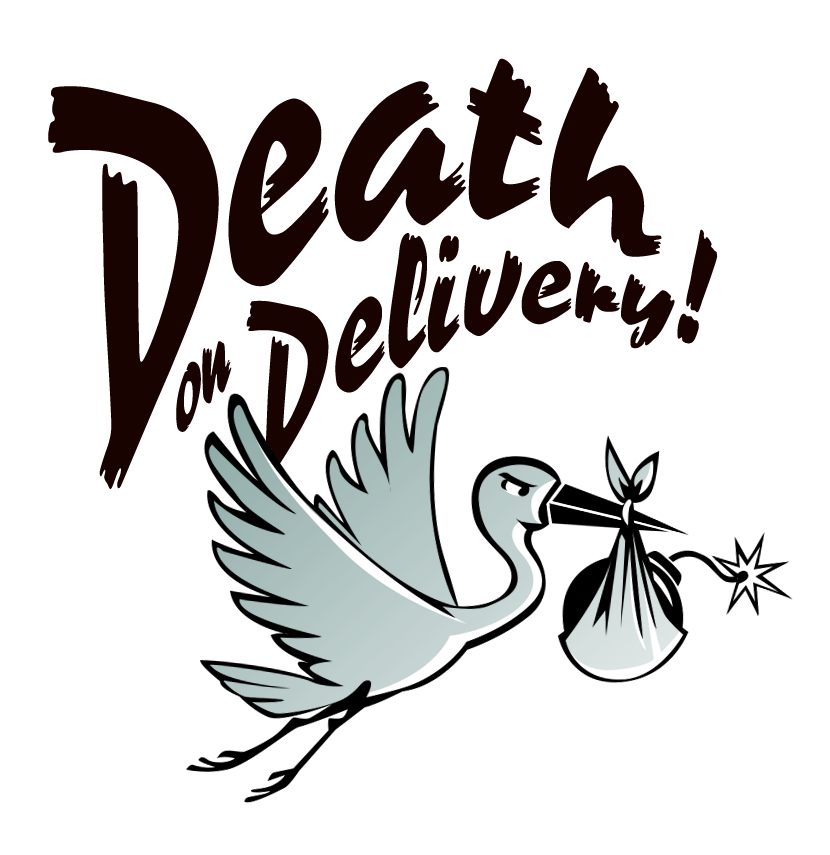 Tickets:
Sneak Previews (Dec 29-30 at 8pm) • $22
Special New Year's Eve Performance • $62
Performance includes cake and champagne in the lobby after the show!
First Week Rush (Jan 5-8) • $22
Thursdays @ 8pm • $22
Fridays @ 8pm • $32
Saturdays @ 3pm • $32
Saturdays @ 8pm • $42
Sundays @ 3pm • $37
To purchase tickets call 972-744-4650 or visit www.eisemanncenter.com
Child/Student/Senior discount: $10 off
S.T.A.G.E. discount: 1/2 off
Discounts not valid for Sneak Previews, New Year's Eve, or First Week Rush.
Tickets include mandatory Eisemann Center building maintenance fee.
Venue:
Bank of America Theatre
Charles W. Eisemann Center
2351 Performance Drive
Richardson, TX 75082
Charles W. Eisemann Center
Bathhouse Cultural Center
521 East Lawther Drive
Dallas, TX 75218